Testimonials
Letter of Reference from I.O.C. - 15 Jan 2004
Anthony Edgar, Manager, Media Operations,
International Olympic Committee:
(click to view/download PDF - 358kb)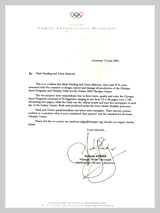 Melbourne 2006 Commonwealth Games
Harding Media Services proof-read the official commemorative books for the Melbourne 2006 Commonwealth Games and Melbourne 2006 Queen's Baton Relay. Despite our demanding publishing schedule they were always accurate, detailed and a welcome and valued voice of reason and calm throughout the process. Best of all, they understood our objectives and contributed a well considered, rational and objective perspective. Both books were much improved by their input and professionalism.
Jilian Mulally
Program Manager, Publications and Collateral
Melbourne 2006 Commonwealth Games
Golf Australia
Golf Australia recently partnered with Harding Media to produce the official programs for the 2012 ISPS Handa Women's Australian Open. As this was the first time this event was co-sanctioned with the LPGA, we were keen to have a quality product to represent a tournament which now possesses significant international standing in women's golf. With their knowledge both of golf and of the client publishing process, Karen and Mark Harding achieved this for us, on time and on budget. We found both Karen and Mark – and their team – to be very professional in their handling of our requirements. We could not be more pleased with the end result.
Chris Schwen
Event Manager - Women's Australian Open
Golf Australia
Racing Victoria Limited
Racing Victoria Limited has been delighted to work with Harding Media Services on our Annual Report over the last two years. Our flagship publication looks great, accurately informs our industry and reflects the many facets of our business.We could not be happier.
Stuart Laing
General Manager
Marketing and Development Racing Victoria Limited
Kingswood Centenary Book
From very humble beginnings in paddocks around Dandenong, Kingswood began its existence over 100 years ago and has gone on to become a highly respected sandbelt course. In writing "The Tin Shedders" – A History of the Kingswood Golf Club, Mark and Karen Harding put together a wonderful chronicle of the Club's past and provided a fascinating insight into the deeds of those who have given the Club its life and character. Members are justifiably proud and delighted with this salute to the Club's 100 years.
Roslyn Ryan
Chairman
Kingswood Centenary Committee
Channel Seven IOC Presentation Book
"The Seven Network set Mark Harding and Tricia Mahoney a near impossible task when they were given just three weeks from concepts to printed copies. But the end result was nothing short of brilliant. I saw at first hand their dedication, skill and good humour under intense deadline pressure. I could not recommend them more highly."
Damian Keogh
Business and Digital Development Director
MCN
Former General Manager of Sports Marketing for the Seven Network and three time Olympian
WGV
Women's Golf Victoria (WGV) partnered with Harding Media Services in 2005 and 2006 to produce a lasting memento of its centenary year, being its Women's Golf Victoria "Celebrating 100 Years of Women's Golf" address book.
WGV was absolutely delighted with the output Harding Media Services provided, with the address book being of the highest quality. From design, copy content and photographic recommendations, Harding Media Services was professional throughout the entire process ensuring that all activities were met on time and within budget.
Without the support, guidance and end-to-end management of the project by Harding Media Services, Women's Golf Victoria would not have delivered such a quality product for its centenary year.
I have no hesitation in recommending Harding Media Services and WGV looks forward to working in partnership with the Harding Media Services team again.
Yours sincerely,

Judy Onto
President